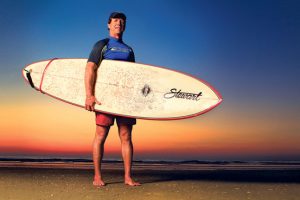 Are We There Yet?
Adventures of the Intrepid Investor
by David Atwood
February 8, 2018
After a roaring start to 2018, equity markets are reminding investors that price swings are an inherent part of investing.  There are those who are surprised by the spectacle of falling prices and stop in their tracks, looking up together to see if the sky is falling.  Some will become active participants offering to do something foolish, selling out of fear when business fundamentals are improving and economies around the world are growing and gaining in strength.   
The past year was one where there was very little movement in prices and one in which investors could easily be lulled into a false sense of security.  Equity markets have been rising for about 107 months, the second longest upward movement in stock prices since the second world war.  Lately, inquiries about investing in speculative stocks have been a regular occurrence, like the tech wreck in 2002 where anything with .com was considered a hot play.  We joked about making our business appear more desirable by putting the words block chain and/or marijuana in our name. 
The myTalisman-Marijuana-Block Chain Investment Company would be like tying a bone around our neck so that the dogs would come and play with us!  Our compliance officer would not find it funny, so we dropped the idea.
As it turns out, when stock prices rise faster than the intrinsic value of the underlying businesses, there must be some sort of correction to restore the equilibrium between price and value.  Either prices must come down or value needs to increase, and the former often happen quickly while the latter can take years to play out.  All intelligent investing is about getting more for less and to do that the investor needs to know what businesses are worth.
The short-term voting machine, long-term weighing machine of the market is inevitable and it plays out the same way repeatedly, regardless of the actors and the story line. 
The timing of these corrective periods is notoriously difficult to predict.  Preparing in advance comes at a cost because a defensive position in a rising market is likely to result in lower returns on the way up.  We also don't know the depth of these corrections until after they have happened.  A crystal ball, or sage like ability and other forms of wizardry are a delusional way of thinking.  
Another form of delusion is to expect a favorable outcome when the price paid for a business with little or no income is the same as for a business with billions of dollars of income.   The price to buy the business of Molson-Coors is about $17 billion, with annual sales of about $13.5 billion.  The four largest Canadian marijuana stocks combined are priced at about the same amount with only about $140 million of annual sales.  We don't need a scale to tell us that buying a marijuana business at these prices is a bad deal.
People appear to be hard wired to speculate; there is a chemical release of dopamine in the brain of pathological gamblers.  Monetary gains are known to be a cause of gambling behavior in humans.  There is a myriad of personal bias that play out in the decision-making process and we are here to watch for those moments when the foolish behavior of others is clearly on display.  We are only catching a glimpse with what we are seeing today.
There is no doubt that stock prices in general have been on the rise.  We have been drawing attention to the rising prices over the past couple of years during client meetings, especially large companies in the US.  Our cash positions have been rising within the equity funds we own and in many cases by way of the fixed income allocations we have added.  We are prepared and ready for a correction and the deeper and nastier the better. 
The recent fall in equity markets capped a week-long tumble in the markets, which saw the DJIA, S&P 500, and S&P/TSX fall 1,096 points (4.1%), 111 points (3.9%), and 633 points (3.9%), respectively.  Many pundits have been calling for a pullback following a terrific run in the markets since its last mini correction in early 2016.  Yesterday we saw the DJIA, S&P 500, and S&P/TSX rise by 567 points or +2.3%, 46 points or +1.7%, and 29 points or +.2%, respectively.  Today markets fell down again.  Expect more whipsawing in the days ahead and remember, volatility is our friend.  We are here to let the market serve us.  
Markets have not yet fallen enough to make a difference with the cash stockpiles we have set aside, so we are not there yet.
Commissions, trailing commissions, management fees and expenses all may be associated with mutual fund investments. Please read the prospectus before investing. Mutual funds are not guaranteed, their values change frequently and past performance may not be repeated.
David Atwood
|
price and value
|
voting machine
|
weighing machine
|
Investing
|
speculate